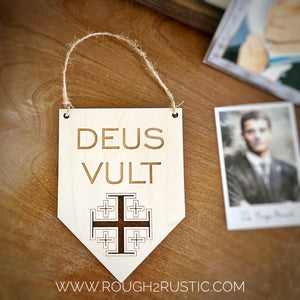 I can't believe we've made it to the last restock of another year. What a joy it is to create inspired work for your homes, offices, as gifts, and more. We are incredibly blessed by all your support of our family (and business). THANK YOU! Many of you have asked when we will offer the Epiphany Home Blessing sign preorder again. The answer is January. I can't believe we're planning for the year 2023 but here we are. Advent is here and so is planning for the new year. What a gift. Is there something else you'd like to see...
---
• catholic art • happy birthday mary • mary • Mary ornament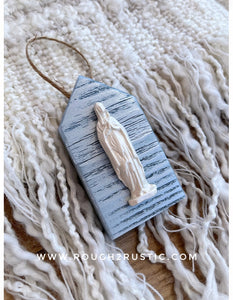 I share my birthday with our most Blessed Mother Mary.  I also share a birthday with my twin brother. Fun fact…my husband and I both have twin brothers.  I also share a birthday with my sweet niece.  What a day of joy! This year, I thought it would be fun to share some fun and joy with you all by 1. Having a Marian themed restock and 2. Having a "Pay What You Want" sale! Thank you all for being here. If it goes well, I hope to offer a sale like this once a year to email subscribers.  So,...
---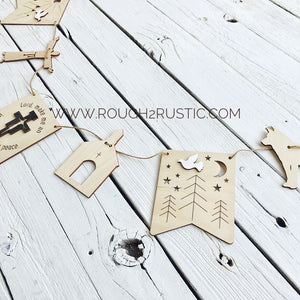 Thank you for your patience and allowing us to take a much needed family break the past couple months. We are back to creating and are so excited to be adding new creations to the restocks. Some of these creations will be the beginnings of some new collections that will prayerfully grow each month. Specifically, we are excited to be offering the St. Francis garland. The hope is for this collection to be full of amazing and inspiring saint decor pieces that you could use throughout your home as a reminder of our forever home in heaven. Feel free to...
---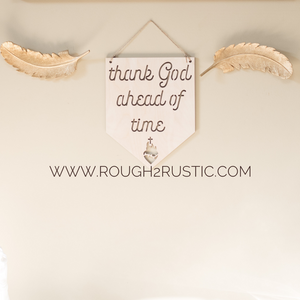 Like any year, 2020 had lots of ups and downs, peaks and valleys. Unlike any year, 2020 forced us all to evaluate our time and our priorities.  We decided to be grateful for the year, for the time we got to spend together, for the love that grew between us, for the call to develop our home prayer life in a whole new way, for the continued blessing of our business, and especially for the healthy pregnancy and birth of our daughter, Lilah.  We shifted our priorities from working to please others to protecting others. We learned as a family...
---
• catholic art • holy family • holy family hearts • rosary hanger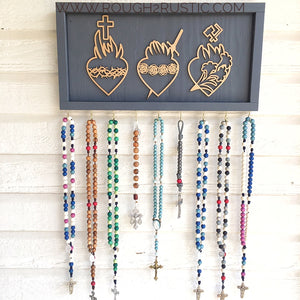 As we prepare to meet our sweet little girl (after 3 crazy boys), we wanted to offer you the chance to shop some of our rosary hangers before we took a break from creating large pieces. So, the August restock is all about rosary hangers and wall art. The highly requested Holy Family Hearts piece is part of this restock, with the option of adding hooks to make it into a rosary hanger. As many people have created prayer spaces in their homes, we think having a piece with the entire Holy Family on it would be perfect for the family...