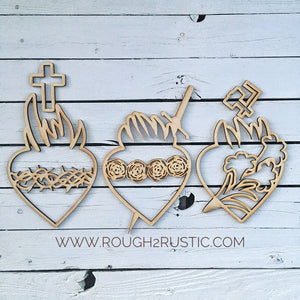 We received an overwhelming response to the release of the Holy Family Hearts and we are so grateful for that. This has been a work in progress for 3 years and we are so excited to finally be able to offer you the full set. The full set is available in three different color options (natural, black, and gold). We are also offering each individual heart in these same color options. They are light weight so can easily be hung with a small nail. And, if you're feeling crafty, the natural hearts can be painted, stained, colored, etc to fit...
---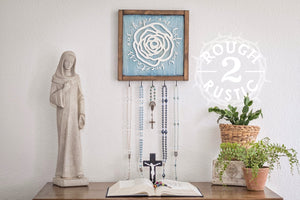 We are offering the rose our life our sweetness our hope rosary hangers as a PREORDER! We have listed the three most popular color combos under the listing, along with a custom option. Each option also has the option to choose how many hooks you'd like on your hanger (no hooks, 5 hooks, 6 hooks, 7 hooks, or 8 hooks).  The preorder will be open for 2 weeks or until we reach our maximum sale capacity. They will ship in approximately 6-8 weeks.  We hope you're as excited as we are! Don't forget - $20 from the sale of each...
---
• catholic epiphany • chalking of the door • epiphany • epiphany sign
Are you familiar with the Epiphany blessing chalking of the doors?  We've created a sign that you can display throughout the year as a permanent visual invitation for Christ's blessing on the home and all who enter. The year rounds hang on a small nail so that they may be updated each year. Included with the purchase of this sign are the rounds for years 2020 - 2030. To use chalk is optional but, for our home, we will have our children trace the letters, symbols, numbers with chalk. "Epiphany (also known as Twelfth Night, Theophany, or Three Kings Day) marks the occasion of...
---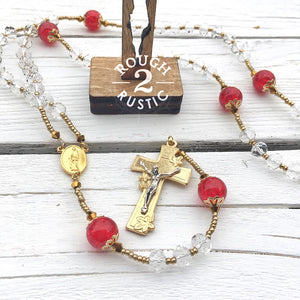 This is the final restock of the year...
---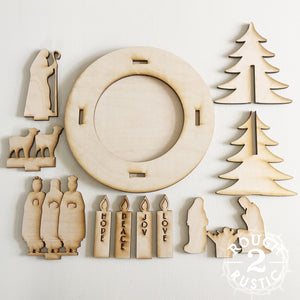 I'm so excited for this month's restock. It includes some of my favorite pieces to make - family rosary hangers, prayer space altars, and THE DIVINE MERCY MOSAIC!!! Yay! The updated mosaic design is BACK! There is very limited stock so grab it before it's sold out!  We are also debuting our original design of the Advent/Nativity wreath. This is a perfect family activity. These can be painted, stained, colored, or covered in craft paper to fit your family's style.  October is ending with an exciting restock! faithfully + joyfully, Michelle