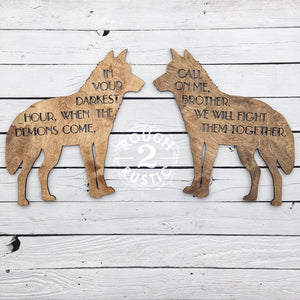 R2R
"Brother" Wolves Set
Regular price
$74.00
$74.00
"In your darkest hour, when the demons come, call on me, brother. We will fight them together."
*Made of quarter inch birch wood. Each wolf measures approximately 15x15.5 inches. Mounted side-by-side, they'll take up almost three feet. 
*These are light weight enough to be hung with 3M strips. They are
also perfect for setting on the mantle, dresser, etc.
*Free U.S. shipping.
---